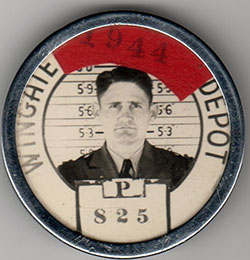 World War II era badge of Chief of Security and Fire John C.(Jake) Ramsey, 1942 to 1947
As an Army depot, Fort Wingate can trace its history back through three locations, more than 150 years, and multiple name changes. However, the lands encompassing FWDA were significant to Native American peoples for a very long period of time prior to their first contact with European people. As a result, the lands at the present day Fort Wingate Depot Activity (FWDA) contain numerous sites also rich in cultural heritage and historical significance to Native Americans.
Both the Navajo Nation and the Pueblo of Zuni, whose current territories are situated in close proximity to FWDA, inhabited the area prior to 1860, when Fort Wingate was established. In addition, both the Pueblo of Zuni and the Navajo Nation have an extensive relationship and history with the Army in the region and with Fort Wingate in particular.
The lands comprising Fort Wingate are "public domain lands" acquired by the Federal government through the treaty of Guadalupe Hidalgo with Mexico in 1848. The lands fall within the traditional territory of both the Zuni and Navajo people. The first military post near the current FWDA was Fort Fauntleroy, established in 1860. This fort was renamed Fort Lyon in 1861, after General Nathaniel Lyon, the first Union general killed in the Civil War. Fort Lyon was abandoned in 1862.
The first Fort Wingate (named after Major Benjamin Wingate, a Union infantry officer who died from injuries sustained in the Battle of Valverde, New Mexico) was established in 1862 at San Rafael, just south of the current location of Milan, New Mexico, where it remained until 1868. That year the Army returned to the site of Fort Lyon and established a "new" Fort Wingate.
Fort Wingate Timeline:
A Summary from 1868 to 1993

1868

United States and Navajos

Signed Treaty of 1868 making FW "set apart for the use and occupation of the Navajo tribe of Indians."

1870

U.S. Executive Order

Declared lands for military use

1881

U.S. Executive Order

Added more land to Fort Wingate

1919

War Department

Built largest storage of high explosives in world at Fort Wingate

1925

Executive Order

Established 26,284 acres for Zuni district of Manzano National Forest (now Cibola National Forest)

1925

Department of Interior

Built C.H. Burke Indian School for Zuni and Navajo children

1928

U.S. Government

Forced Native Americans to leave; installation became active military post

1928

Congressional Act

Transferred 9,502 acres to Navajo

1941 – 42

U.S. Army

Fort Wingate reconstructed and renamed: Fort Wingate Ordnance Depot

1942 – 45

Native Americans

Worked at Fort Wingate to support WWII Allies

1950

Congressional Act

Transferred 13,150 acres for Bureau of Indian Affairs use

1960 – 67

Army

Tested ballistic missiles launched from what is now Parcel 1

1970

U.S. Indian Claims Comm.

Determined Fort Wingate land had been Navajo aboriginal lands

1971

U.S. DoD

Placed Fort Wingate on reserve; re-designated as Fort Wingate Depot Activity

1989

U.S. Claims Court

Determined FWDA had been Zuni aboriginal lands

1993

U.S. DoD

Declared FWDA inactive
For more information on Fort Wingate history, click into these documents:
Fort Wingate Depot Activity Base Realignment & Closure Installation Action Plan
Community Relations Plan Fort Wingate Depot Activity
History of Fort Wingate Depot: Forts Fauntleroy and Lyon
The History of Fort Wingate H. James

These documents are included as Portable Document Format (PDF) Adobe Acrobat features. Please download Acrobat Reader to view them.
---