U.S. Army Fort Wingate Depot Activity announces public interest survey for participation in re-activating a Restoration Advisory Board. Click here for news release and info on the survey. Deadline for survey is Feb. 9, 2021.
---

Click here to view our new Cultural Resources/Section 106 page.
---
Click here for photos and information of current activities.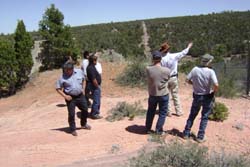 May 3, 2011. Steven Smith, Mike Scoville, and Steven Carpenter describe the Hazardous Waste Management Unit in Parcel 3 to the Zuni Government Delegation.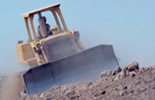 Click here for the Base Realignment and Closure Installation Action Plan schedule.
---