U.S. Army Fort Wingate Depot Activity announces public interest survey for participation in reactivating a Restoration Advisory Board.
Click here for News Release.
Click here for Survey. Deadline for submittal is February 3, 2019,
---
Army Seeks Public Comment on Resolving Adverse Effects to Historic Properties. Click here for info and documents.
---

Click here to view documents concerning RCRA Permit modifications.

Click here to view our new Cultural Resources/Section 106 page.
Click here for photos and information of current activities.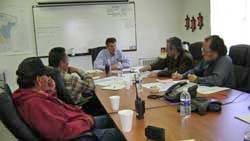 April 28, 2011. Representatives from the Navajo Nation (Albert Damon, Tony Perry, and Franklin Jishie) discuss the Fort Wingate project with Steven Smith and Mike Chee.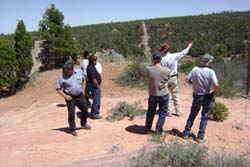 May 3, 2011. Steven Smith, Mike Scoville, and Steven Carpenter describe the Hazardous Waste Management Unit in Parcel 3 to the Zuni Government Delegation.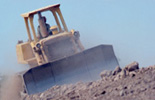 Click here for the Base Realignment and Closure Installation Action Plan schedule.
---