News Release:
U.S. Army announces Public Meeting concerning RCRA Permit Modifications. Meeting is September 10, 2014 at 7 p.m. at LaQuinta Inn and Suites, 3880 Historic US 66, Gallup, NM
Click here to view proposed modifications.

---
US Department of Defense says chemical weapons stored in Panama staying put - By Diana Washington Valdez / El Paso Times View Full Story
---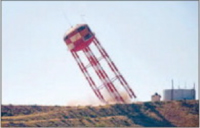 USACE takes down a water tower as part of remediation effort, June 26, 2012. Photo courtesy of Cable Hoover/Independent. Click here to read full article from the Gallup Independent.
---
Click here for photos and information of current activities.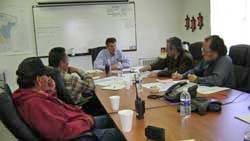 April 28, 2011. Representatives from the Navajo Nation (Albert Damon, Tony Perry, and Franklin Jishie) discuss the Fort Wingate project with Steven Smith and Mike Chee.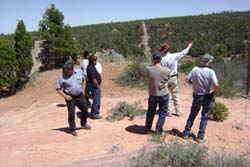 May 3, 2011. Steven Smith, Mike Scoville, and Steven Carpenter describe the Hazardous Waste Management Unit in Parcel 3 to the Zuni Government Delegation.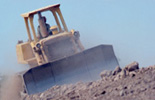 Click here for the Base Realignment and Closure Installation Action Plan schedule.
---

Click here to view documents concerning RCRA Permit modifications.

Click here to view our new Cultural Resources/Section 106 page.